Unlike most other industries, in the new home construction business, the builders have lower warranty expense rates than many of their suppliers. But the makers of appliances and heating/cooling systems are now cutting their costs and narrowing the gap between their expense rates and those of the makers of fixtures, furniture, and building materials.
While suppliers generally have lower warranty expense rates than the name brands facing the end user customer, things are a bit different in the building trades, where appliance and heating/cooling system manufacturers have the highest expense rates of all. New home builders are in the middle, with the companies supplying them with building materials, fixtures and furniture lowest of all.
For the homebuilders, warranty expense rates have generally remained below 1.0%, except for those lean years between 2007 and 2012. And while they had their problems with mold, leaks, and smelly drywall during that period, the elevated expense rates had more to do with low sales than high costs. That's why, in Figure 5, the claims rate rose while the accrual rate didn't. If there are no sales, there's no need for accruals. But even when current-year sales fall, claims have to be paid for past-year sales.
Figure 5
New Home Builders
Average Warranty Claims & Accrual Rates
(as a % of product sales, 2003-2016)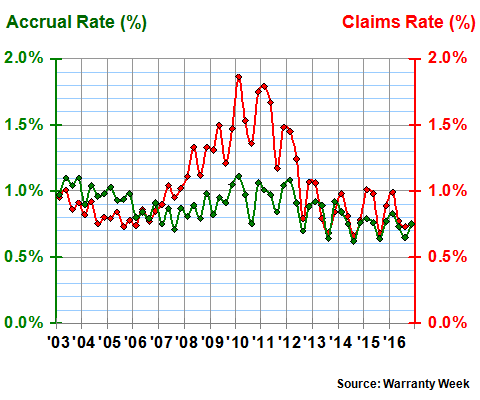 In the past year, Hovnanian saw its claims rate fall significantly, while PulteGroup, Taylor Morrison Home, and NVR saw more modest decreases. All saw double-digit sales gains. At the other extreme, Lennar, Toll Brothers, and M/I Homes saw modest increases in their claims rates, while Beazer Homes saw its claims rate rise from a worrisome 3.6% to a painful 4.4%. Still, the company kept its accrual rate at a steady 0.8%.
Among the dozen largest builders, in fact, accrual rates changed hardy at all. The exceptions were Cavco Industries, which raised its accrual rate from 2.7% to 3.0%, and Hovnanian, which cut its accrual rate from 1.6% to 1.3%. But since sales are rising so quickly for most of them, even if the percentage rates remain the same, the total dollars accrued will rise, as was seen in Figure 2.